Geoffrey W. Gibbon
South Carolina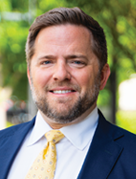 Fayssoux & Landis, PA
209 E Washington St
Greenville, SC 29601
United States
Tel: 864-233-0445

Email:

Geoff@FayssouxLaw.com
Web:

www.fayssouxlaw.com
Geoff has been handling civil litigation matters ranging from motor vehicle accidents, trucking accidents, wrongful death cases, products liability cases, premises liability cases, construction defect cases, and insurance coverage disputes since becoming a member of the South Carolina Bar in 2007.
For the first 14 years of his practice before joining Fayssoux & Landis, Geoff worked for a large regional insurance defense firm where he was a partner and litigation team leader. Geoff's extensive experience doing civil defense work brings with it a unique knowledge and understanding of how insurance companies evaluate and handle claims.
Geoff has successfully tried numerous cases throughout the Upstate of South Carolina. Geoff has also negotiated hundreds of successful settlements for clients of all types including individuals, businesses, and insurance companies.
Geoff has been recognized by Greenville Business Magazine as Legal Elite of the Upstate in the areas of insurance and construction law from 2017 to 2021. From 2017 to 2019 and 2021 Geoff received the top attorney vote in the area of construction law. The Legal Elite of the Upstate is voted on annually by active attorneys in Greenville.
Geoff was also previously a Board Member for the South Carolina Defense Trial Attorneys Association from 2017 to 2021 and editor of their publication The DefenseLine. Geoff was also previously a member of the Federation for Defense and Corporate Counsel ("FDCC"). The FDCC is a prestigious invitation-only national association of the top defense and corporate counsel in the United States.
Geoff is also a member of the American Board of Trial Advocates ("ABOTA"). ABOTA is an invitation-only national association of experienced trial attorneys and judges. ABOTA's membership consists of more than 7,600 lawyers across the United States – equally balanced between plaintiff and defense.
Geoff was born and raised in Spartanburg, South Carolina. Geoff graduated from Auburn University in 2004. Geoff graduated from the University of South Carolina School of Law in 2007. Geoff is married to Kristen Gibbon of Spartanburg, South Carolina and has three children, Sloane, Rett, and Cam.
Bar Admissions
South Carolina, 2007
U.S. District Court District of South Carolina, 2007
U.S. Court of Appeals for the Fourth Circuit, 2016
Education
University of South Carolina School of Law, Columbia, South Carolina
Auburn University

B.S. (Finance) (Summa Cum Laude) – 2004
Professional Associations and Memberships
Greenville County Bar Association
South Carolina Bar Association
American Board of Trial Advocates (ABOTA)
Honors and Awards
2021, 2020, 2019, 2018, 2017, Greenville Business Magazine Legal Elite of the Upstate – Civil Litigation
2017 – 2019, 2021 Construction Law (Top Attorney Vote)
2020 – 2021 Insurance
Fayssoux & Landis are decorated attorneys in Greenville, SC focused on personal injury law, medical malpractice, dispute litigation, drunk driving and dram shop cases, real estate law, and more.
Through our personal service and prompt communication, our attorneys guide you toward a successful resolution that protects your best interests. With multimillion dollar verdicts in three different counties, as well as offices in Columbia and Greenville, you can depend on us to provide exceptional legal service no matter where you are in South Carolina. Reach out today and we'll provide a cost and commitment-free consultation.
With over 70 combined years of experience, you can trust our lawyers to approach every case with thorough preparation, careful strategy development and a depth of legal knowledge and experience in a broad range of practice areas. If you are facing a case involving injury and death, a dispute, professional negligence, or criminal defense, reach out to one of our trusted attorneys. We provide valuable insight no matter where you are in South Carolina or how complex your situation.