John G. Schultz
Missouri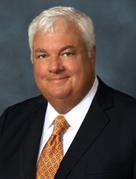 Franke, Schultz & Mullen, PC
8900 Ward Parkway
Kansas City, MO 64114
United States
Tel: (816) 421-7100

Email:

jschultz@fsmlawfirm.com
Web:

www.fsmlawfirm.com
Mr. Schultz has acted as lead trial counsel in over 170 jury trials in six states. He has been elected to the American Board of Trial Advocates and the Federation of Defense and Corporate Counsel. He is a fellow of  the American College of Coverage Counsel. He is certified as a Civil Trial Specialist by the National Board of Trial Advocacy. Over two hundred opinions arising from his cases are published in the federal and state reporters.
Mr. Schultz defends product liability, trucking, construction and intellectual property cases as well as medical and legal malpractice claims throughout the Midwest. He specializes in representing companies and institutions whose reputation and future are dependent on a successful resolution of the litigation (often referred to as "bet the company" cases). Self-insured corporations and reinsurance carriers seek Mr. Schultz's representation in highly sensitive or catastrophic injury cases that are not expected to settle before trial.
In recent years a significant part of Mr. Schultz's practice has been serving in the role of "parachute counsel." Insurance carriers often call on Mr. Schultz to step in and try a difficult case when existing defense counsel has hesitation or reservation about taking the case to a verdict. In that role, Mr. Schultz has an impressive record of favorable verdicts in cases tried in hostile venues with inflammatory evidence adverse to the defendant.
Mr. Schultz is listed in Best Lawyers in America in Insurance Law, Product Liability Litigation and Personal Injury Litigation-Defense.  He has been selected as a "Missouri/Kansas Super Lawyer" by Law and Politics Magazine every year since 2006. From 2009 to 2022 the Super Lawyers Magazine has recognized Mr. Schultz as one of the top 100 lawyers in Missouri and Kansas and one of the top 50 in Kansas City.  He has been selected as "Best of the Bar" by the Kansas City Business Journal ten times. The Chambers USA 2020 and 2021 rankings list Mr. Schultz as "an incredibly good defense lawyer."
In 2023, Missouri Lawyers Media selected Mr. Schultz for The POWER List of Missouri's Top 100 Attorneys. Mr. Schultz was also named an "Influential Lawyer" by Missouri Lawyers Media. This recognition was "awarded to the newsmakers – the Missouri Lawyers who made substantial contributions to the legal community this year." Mr. Schultz's courtroom achievements were reported in the Kansas City Star, the Detroit News, the Miami Herald, the New York Times, the London Telegraph and Rolling Stone Magazine, as well as on ABC, Fox and CBS news.
J. Patrick Brooks et al v. Missouri Boys Ranch, et al., Case No. 16LW-CC00146 [Boys ranch found not liable for murder of plaintiff's mother by 2 boys who ran away from the ranch-7.6 to 21MM in actual damages requested.]  #3 TOP DEFENSE VERDICT IN 2018 – MISSOURI LAWYERS WEEKLY.
Sanborn v. Worstell and United Fire & Casualty, Case No. 1522-CC00550 [Insurance company found not liable for $33MM judgment in St. Louis City Circuit Court.]  #1 TOP DEFENSE VERDICT IN 2017 – MISSOURI LAWYERS WEEKLY.
James L. O'Conner v. Landvatter Ready Mix, Case. No. 14-SL-CC03641 [admitted liability case where permanently injured electrical lineman sought more than 3.2MM in damages from St. Louis County jury.].
Kozlov and Tchikobava v. Associated Wholesale Grocers, Inc. et al., Case Nos 4:10CV3211, 4:10CV3212 and 8:10CV3191, (U.S. District Court, District of Nebraska); [driver and passenger in tractor trailer rear-ended by another tractor trailer sought $6.3M in damages]
Jentz, et al. v. Con Agra, et al.; 3:10-CV-00474, (U.S. District Court, Southern District of Illinois); [3 workers burned in grain mill explosion sought over $100 million actual and $1 billion in punitive damages]
Walley v. LaPlata Volunteer Fire Dept., 02V010400396 (Adair County, Missouri); [$10 million sought by highway patrol officer permanently disabled from accident]
Thornton v. McCormack, 17V019701425 (Johnson County, Missouri); [$5 million actual damages sought for arm amputation]
Henderson v. Fields, 99CV208562 (Jackson County, Missouri); [$100 million in punitive damages sought in triple fatality case]
Clift v. Display Studios, Inc., 1997 WL 33104277 (St. Clairsville, Ohio) [Brain damage – truck accident]
Daniels v. Senior Care, Inc., 21 S.W.3d 133 (Mo. App. S.D. 2000) [Wrongful death – nursing home malpractice]
King v. G.W. Foods, Inc., 71 Fed. Appx. 770 (10th Cir. 2003) [Parapalegic – product liability]
Travis v. Stone and Apex, Inc., 66 W.W.3d 1 (Mo. App. 2002) [Wrongful death – truck accident]
Smith v. Shelter Mutual Ins. Co., 1999 WL 1581788 (Jackson County, MO) [Degloving injury to leg]
Woolfolk v. University Forest Nursing Care Center, 1999 WL 113241 (St. Louis City Circuit Court) [Wrongful death – nursing home malpractice]
Evers v. Lutheran Althenheim Society, 1995 WL 17007850 (St. Louis City Circuit Court) [Nursing home malpractice]
Berry v. It's a Kids World Day Care, [Starvation of foster child – day care negligence]
"

John Schultz

 frequently handles coverage litigation, drawing on notable trial expertise. He is best known for his representation of insurance carriers."