Nicholas M. DePalma
Virginia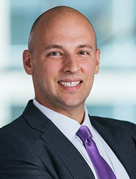 Venable LLP
1850 Towers Crescent Plaza
Suite 400
Tysons, VA 22182
Tel: +1 703.905.1455

Email:

nmdepalma@Venable.com
Web:

www.venable.com
Nick DePalma is a first-chair trial attorney representing clients in disputes involving commercial contracts, government contracts, false advertising claims, real estate disputes, and trust and estate issues.
He has significant experience in both commercial litigation and arbitration—securing verdicts, judgments, injunctions, arbitral awards, and settlements for both commercial and pro bono criminal defendants. He has also represented companies defending against enforcement proceedings and lawsuits brought by federal agencies.
Before joining Venable, Nick spent seven years as a commercial litigator at an international law firm, during which he defended foreign sovereigns and financial institutions in courts across the country.
Education
J.D.William & Mary School of Law2006

Graduated First in Class
Order of the Coif
Order of Barristers

B.A.with distinctionGeorge Mason University2003
Bar Admissions
Virginia
District of Columbia
Court Admissions
U.S. Supreme Court
U.S. Court of Appeals for the Fourth Circuit
U.S. Court of Appeals for the First Circuit
U.S. District Court for the Eastern District of Virginia
U.S. District Court for the District of Columbia
U.S. Bankruptcy Court for the Eastern District of Virginia
Defeated an $80 million claim (holding the jury verdict to $180,000) as lead counsel in a three-week jury trial for a government contractor accused of copyright infringement, misappropriation of trade secrets, and breach of contract. (E.D. La.)
Defeated an $8 million suit by a satellite bandwidth supplier against a prime contractor over a contract to supply satellite bandwidth for use by the U.S. Indo-Pacific Command (PACOM) through an IT Schedule 70 Indefinite Delivery/Indefinite Quantity prime contract with the U.S. government. Secured a complete victory on all claims and fee shifting in excess of $1.5 million. (Hawaii Pacific Teleport, LP v. Peraton Government Communications, Inc.) (International Court of Arbitration No. 24178/MK) (confirmation proceedings D. Hawaii 2020)
Obtained a preliminary injunction for a large defense contractor under the Federal Defend Trade Secrets Act regarding trade secrets shared during a teaming agreement involving the receiving party's failure to firewall employees with knowledge. (E.D. Va.)
Secured a summary judgment of $4,367,121.68 on behalf of a lender against a defense contractor guarantor. (PFF, LLC v. Benjamin Worrell) (E.D. Va.)
Secured a $360,000 verdict as counsel in a trial involving employee raiding and breach of fiduciary duty, with regard to government contractor employees. (Overlook Systems Technologies v. Lortie) (Fairfax Cir.)
Obtained and collected a $584,013 judgment against a subcontractor related to weapons supply and static security in Afghanistan. (Aegis Defense Services, LLC v. Integrated Systems) (E.D. Va.)
Defended a foreign sovereign in a lawsuit brought by a U.S. contractor related to military support. (UNC Lear Services, Inc. v. Kingdom of Saudi Arabia) (W.D. Tex.)
Prosecuted claims against a U.S. contractor on behalf of a foreign sovereign on claims related to the largest ice-skating rink in Kuwait; obtained a $482,419 judgment. (Touristic Enterprises Co. v. PRC Commercial Refrigeration) (D. N.J.)
Opposed a motion to confirm an arbitral award arising out of the construction of military barracks in Kenya. (Trax Const. Ltd. v. Dyncorp) (E.D. Va.)
Secured a confidential settlement on behalf of a subcontractor in a contract dispute
Secured a confidential settlement for a service-disabled veteran-owned small business against a competitor in a trade secret case. (Fairfax Cir.)
Secured a confidential settlement against a competitor in a trade secret case. (Fairfax Cir.)
Served as lead counsel in a business conspiracy case involving allegations of a breached teaming agreement, misappropriation of trade secrets, and violation of restrictive covenants. (Fairfax Cir.)
Venable LLP is a firm of trusted advisors serving businesses, organizations, and individuals in many of the most important aspects of their work.
Our professionals immerse themselves in our clients' work to fully understand their biggest opportunities and challenges while helping them navigate an increasingly complex legal and regulatory environment. Today, with more than 850 professionals delivering services around the world, we're helping our clients connect quickly and effectively to the experience, insights, and advice to achieve their most pressing objectives.
Cultivated over more than 120 years, Venable's capabilities span virtually every industry and all areas of regulatory and government affairs, corporate and business law, intellectual property, and complex litigation. Many of our professionals are former regulators, senior government staffers, state attorneys general, and members of Congress—bringing an invaluable depth of experience to our firm. At the same time, we foster a diverse culture that helps ensure our ability to attract, retain, and elevate the most talented professionals in the country, who work on behalf of our clients.