Patrick G. Rock
Delaware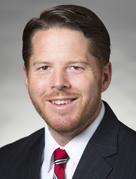 Heckler & Frabizzio
The Corporate Plaza
800 Delaware Avenue, Suite 200
Wilmington, DE 19801
Tel: 302-573-4800

Email:

prock@hfddel.com
Web:

www.hfddel.com
Patrick G. Rock is a Partner in the Wilmington office of Heckler & Frabizzio, a leading litigation defense law firm, based in Delaware.
Patrick has tried more than 20 jury trials in Delaware Superior Court, the court of general jurisdiction and has handled cases in every State Court and assisted in District Court Appeals to the U.S. Supreme Court. Patrick has handled liability claims involving car accidents, insurance coverage disputes and insurance coverage analysis, premises liability and product liability claims, civil rights and Section 1983 claims, among others.
In 2015-2022 Patrick was voted by his peers to be among Delaware's Top Lawyers and in 2016 he was inducted into the American Board of Trial Advocates. Patrick is also AV Rated by Martindale Hubbell.
Patrick serves on the Board of the Defense Counsel of Delaware, is a member of the Delaware Claims Association, volunteers as a mentor to Widener University law students and participates as a volunteer in the high school Mock Court Trial Competition.
Patrick has given seminars on Civil Litigation, Discovery, Worker's Compensation Subrogation, Bad Faith Insurance Litigation, and Delaware Legal updates for Delaware attorneys and Heckler and Frabizzio clients.
Having been raised on a dairy farm in Northern Vermont, Patrick attended college for two and a half years at Johnson State College then transferred to his Alma Mater, Thomas More College in Merrimack, New Hampshire. While at Thomas More College he spent a semester in Rome, Italy, and then graduated Cum Laude with a Political Science Degree in Liberal Arts in 1996. After college, Patrick interned in Washington, DC for a Vermont U.S. Senator and then was a Wilber Fellow in Mecosta, Michigan at the Russell Kirk Center for Cultural Renewal. Following the Fellowship, Patrick entered law school at Widener University in Wilmington, Delaware and he graduated in July 2000.
Patrick married his wife Christina (B.A. Lit., 1995, Black Belt in Taekwondo, 2013) in 1997 and together they raise an above average family of nine children. If more time would allow he would enjoy all kinds of outdoor sports including fishing, trap shooting, hiking and travel abroad, but in the meantime he must be content with catching the occasional football game and watching NCAA Basketball, though he likes listening to baseball on the radio. One of his favorite political philosophers is Hannah Arendt, one of his favorite songs is The Dutchman by Tommy Makem and Liam Clancy, and his favorite artist is Michelangelo Caravaggio (1592-1610).
Heckler & Frabizzio, founded in 1981, is a litigation defense law firm, located in Wilmington and Dover, Delaware comprised of a dedicated team of lawyers and legal support staff. The firm limits its representation to general civil and trial practice, insurance defense, workers' compensation defense, malpractice matters, negligence claims, premises liability, construction claims, product liability, contract reviews, subrogation law, and employment-related matters in the states of Delaware, Maryland, and Pennsylvania.
Heckler & Frabizzio represents a distinct list of insurance companies, employers, and self-insureds doing business in Delaware, Maryland, and Pennsylvania. The personal attention the firm provides helps ensure an exceptional value for the services provided. The firm remains committed to keeping small-firm qualities, including the ability to work expeditiously on behalf of our clients allowing us to respond quickly to their needs.
Heckler & Frabizzio is AV rated by Martindale Hubbell and are the sole Delaware Firm active in the National Workers' Compensation Defense Network.
Liability Defense and General Litigation
This practice group consists of many case types such as automobile liability, property liability, professional liability, toxic tort, mass tort, asbestos, and medical malpractice. These cases are opened, assigned and overseen by a firm partner. New case assignments are immediately acknowledged, with prompt clear lines of communication established with the insured and client to facilitate thorough reporting and efficient case handling, evaluation, and, if appropriate, early resolution.
Employment Law/Contractors Group
The Employment and Contractors Law Group serves area businesses and employers providing employment law, contract law, and litigation services. We offer quality representation at a reasonable cost. We are a local firm active in the Delaware Chapter of the Association of Builders and Contractors (ABC) and the Delaware Contractors Association (DCA).
Worker's Compensation Defense
Representing area self-insureds and major insurance companies, Heckler & Frabizzio receives new case assignments daily which are assigned to three or four-person teams for handling. In most cases, a new matter is overseen by a firm partner who receives assistance from an associate and paralegal. These "teams" complement each other as job responsibilities are clearly defined within the organization. Ultimate responsibility for each matter rests with the assigned partner.