Paul Mark Sandler
Maryland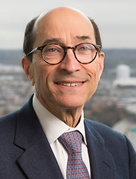 Shapiro Sher Guinot & Sandler
250 West Pratt Street
Suite 2000
Baltimore, MD 21201
Tel: 410.385.4272

Email:

pms@shapirosher.com
Web:

www.shapirosher.com
Paul Mark Sandler is Of Counsel in the law firm of Shapiro Sher Guinot & Sandler, P.A., and has represented many notable clients in a wide variety of trials and appeals, civil and criminal, in state and federal courts in Maryland, and throughout the United States.
Mr. Sandler is a frequent lecturer on trial and appellate practice, founder and former chair of the Litigation Section of the Maryland State Bar Association, and past Secretary of the Litigation Section of the American Bar Association. He is also a Fellow of the American College of Trial Lawyers and Chair of the College's one-day trial training program for young lawyers.
In addition to writing a monthly column for The Daily Record, Mr. Sandler is the author, co-author, or co-editor of numerous books on trial advocacy. Titles include:
Mr. Sandler received his undergraduate degree from Hobart College and his law degree from Georgetown University Law Center, and was admitted to the Maryland Bar in 1972.
Bar Admissions
Co-chaired by David B. Applefeld and Alex J. Brown, the Firm's Litigation Group successfully represents corporate, governmental, and individual clients in a wide range of state and federal cases including:
Land Use and Zoning
Appeals
Corporate, Commercial & Regulatory
Employment
Product Liability and Personal Injury
White Collar Criminal Defense
Antitrust and Securities
Class Actions
Consumer Protection
Real Estate
Public Law and Election Law
Constitutional Law
False Arrest and Malicious Prosecution
Fraudulent Conveyances
Intellectual Property Disputes
Our Litigation Group is known for its tenacity, dedication, and success in both the courtroom and in arbitration. Comprised of experienced trial lawyers, the Litigation Group appreciates the importance of proper evaluation of each case in order to achieve the best possible results, including successful settlements in lieu of protracted trials. Additionally, the strategic use of technology promotes efficiency in case management and facilitates timely and comprehensive reporting to clients.
At Shapiro Sher, our success is driven by a fundamental belief: the companies and individuals who place their trust in us deserve the close attention of deeply experienced attorneys. That's why we bring senior talent to bear on every matter. In all areas of bankruptcy, business law, and litigation, the strategies we provide are planned and executed by attorneys practicing at the top of their profession.
When you hire Shapiro Sher, you get an efficient team gifted with the ingenuity and foresight that only come with years of hard-fought accomplishment. We pride ourselves in our ability to do more with a select group than our competition manages with large cadres of lawyers.
Based in Baltimore, the Firm's attorneys have earned reputations that reach well beyond the Mid-Atlantic region. Our business lawyers are at the heart of major transactions in all industry sectors across the country and abroad. Our litigators serve as counsel in cases of national consequence, and our bankruptcy practice is international in scope.
Since our founding in 1972 by Ronald M. Shapiro, the Firm has provided invaluable representation to Fortune 100 corporations, emerging growth businesses, governments, non-profits, and individuals. An unusually large proportion of our attorneys are regularly cited in publications devoted to identifying top legal talent. We are well represented in Chambers USA, Best Lawyers in America®, and Maryland Super Lawyers®.
Additionally, half of our lawyers have been granted Martindale-Hubbell's AV® Preeminent™ 5.0 rating, the highest rating given and a reflection of their preeminence in the field of law. Martindale-Hubbell ratings are based on confidential peer reviews from members of the Bar and the Judiciary.