A. Sheila Oretsky
Florida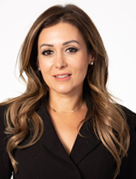 Greenberg Traurig, LLP
333 SE 2nd Avenue
Suite 4400
Miami, Florida 33131
Tel: +1 305.579.0535

Email:

sheila.oretsky@gtlaw.com
Web:

www.gtlaw.com
Sheila Oretsky is ranked by Chambers USA for her work in commercial litigation and is a Martindale Hubbell AV rated litigator and trial attorney.
Prior to joining GT, Sheila served as the co-chair of the Class Action Committee at a national law firm. Sheila represents domestic and international clients in complex commercial litigation matters across a range of industries and she is often called upon to litigate high-profile matters and issues of first impression all the way through an appeal.
She regularly advises on highly contentious complex matters related to defamation, fiduciary claims, director and officer liability, non-competes and trade secrets, partnership disputes, business divorces, breach of contract, civil RICO, EB-5 related litigation, professional malpractice, commercial landlord/tenant disputes, insurance, and business torts such as fraud. She is also experienced in class action defense of a variety of claims and often serves as an outside general counsel for her clients advising family offices and private equity firms on litigation and other risks.
Her experience includes representations related to disputes stemming from international mergers and acquisitions and real estate disputes with publicly traded retail tenants and multibillion-dollar landlords. Sheila also has significant experience in the payments and credit card processing industry
Sheila is licensed in Florida and New York and litigates matters in federal and state courts across the country as well as in arbitrations including international arbitrations before the ICC. Her practice also regularly includes serving as a testifying attorneys' fees expert and a judicially appointed special master.
Education
J.D., Florida International University College of Law, 2005
M.A., University of Florida, 2002
B.A., with Honors, University of Florida, 2001
Admissions
Listed, Chambers USA Guide, Litigation: General Commercial, 2022-2023
Listed, Super Lawyers magazine, Florida Super Lawyers, 2016-2023
Listed, Florida Trend, "Up and Comers," 2010, 2021-2022
Listed, Florida Association for Women Lawyers," Leaders in the Law," 2019
Listed, Attorney at Law magazine, "Top 14 Lawyers to Watch," 2014
Listed, Cystic Fibrosis Foundation, "40 Under 40 Outstanding Lawyers of Miami-Dade County," 2012
Rated, AV Preeminent® 5.0 out of 5.0
Obtained dismissal of a $500m defamation claim asserted against a social media platform involving publication of information found on a then presidential candidates son's computer.°
Obtained settlement on behalf of a public national retailer in a landlord/tenant dispute involving landlord's unreasonable withhold of consent to a covenant in lieu to develop premises located in the Miami Design District.°
Obtained ruling in ICC arbitration where a three arbitrator panel ruled they had no jurisdiction to hear matter after federal court compelled arbitration.°
Obtained 100% recovery on behalf of member of Delaware limited liability agreement in a breach Redemption Agreement matter.°
Represented an insured under a rarely used theory of coverage by estoppel.°
Obtained summary judgment in breach of contract claim involving the worlds largest boat marketplace.°
Obtained dismissal of breach of fiduciary duty and FDUTPA count against subcontractor in case involving.°
Obtained dismissal of a civil theft count against client and obtained attorneys' fees award.°
Obtained a settlement on behalf of seller of ambulatory service business in a specific performance claim asserted by purchaser in the Delaware Chancery Court.°
Prevailed in case and obtained arbitration award as first chair in matter for large motor racing company in dispute with seller of business.°
Defended a $14 million commercial foreclosure action at trial brought against a local developer. Also obtained judgment on developer's counterclaim for declaratory relief to extend the maturity date of the loan.°
Obtained settlement in defending a multioffice law firm in an $85 million malpractice claim.°
Obtained summary judgment in favor of condominium association in the defense of a Petition to Dissolve the Condominium Association and Declaratory Relief claim. Hershoff, Lupino & Yagel, LLP v. Center Cocoanut Grove Condominium Association, Inc., et al. per curium affirmance of attorneys' fees awarded under §57.105.°
Defended a credit card processing company at an evidentiary hearing in a preliminary injunction action brought against a former sales representative in a non-compete action and obtained summary judgment striking the non-compete clause as unenforceable and limiting the non-solicitation clause.°
Obtained dismissal, with prejudice, of constructive fraud counts in defense of malpractice claim.°
Obtained a settlement in a claim for sentimental value damages in a unique property damage case.°
Obtained dismissal, with prejudice, of a claim for a tortious interference in the original complaint against a hotel.°
Obtained dismissal, with prejudice, of civil theft claim against audio/visual company.°
Obtained a settlement in a multicount litigation against filmmakers asserted by a former University of Miami football player.°
Obtained a settlement in a civil theft and fraud case against a global real estate firm for negligently hiring and supervising a real estate agent and crafted a Coblentz Agreement as part of the resolution.°
Defended a national dialysis clinic in a claim for breach of fiduciary duty in an arbitration proceeding.°
Obtained a settlement for an audio/visual company in a claim for breach of contract.°
Obtained a settlement in a claim between joint venturers to perform construction services for The St. Regis Bal Harbour Resort.°
Obtained a resolution for plaintiff in a claim for misappropriation of name and likeness, fraud, and trademark infringement.°
Obtained a resolution for plaintiffs in a claim for fraudulent lien against a subcontractor.°
Obtained summary judgment in a fraud claim asserted by cross-claimant against co-guarantor of a commercial loan.°
Defended a former wife pro bono at trial in an action for modification of time sharing brought by her former husband and obtained judgment in the former wife's favor on counter-petition for upward modification of child support.°
°The above representations were handled by Ms. Oretsky prior to her joining Greenberg Traurig, P.A.