Thomas G. Rohback
Connecticut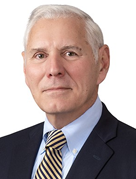 Axinn, Veltrop & Harkrider LLP
90 State House Square
Hartford, CT 06103
United States
Tel: 860.275.8110

Email:

trohback@axinn.com
Web:

www.axinn.com
Thomas Rohback is an experienced trial, appellate and class action lawyer, who was profiled by The National Law Journal among a group of "successful business litigators in the U.S. who used innovative tactics to help them win major trial victories." He has in-depth experience of trial and appellate litigation, and class actions throughout the USA. During one year, Tom tried three federal court jury cases in a three-month period and obtained a directed verdict in each case.
Throughout the United States, Tom's cases have involved diverse areas of the law ranging from antitrust to anti-terrorism litigation. The industries in which he has represented clients include manufacturing, financial services, insurance, utilities and telecommunications.
Education:
JD – Columbia University Law School (1978) Honors: Harlan Fiske Stone Scholar.
MA – Columbia University (1974)
BA, summa cum laude – Union College (1973) Honors: Nott Scholar. Phi Beta Kappa
Honors:
Senior Fellow of Litigation Counsel of America, The Trial Lawyer Honorary Society
Connecticut Law Tribune, Professional Excellence Award (2016)
National Law Journal "Winning" Litigator (2011)
Benchmark Litigation – CT Litigation Star: Commercial Litigation (2022 – 2023)
Chambers USA – Connecticut: Litigation (2005 – 2022)
Best Lawyers (2022 – 2023)
Super Lawyers (2006, 2009 – 2022)
Successfully tried to verdict one of the very few class action cases ever to have gone to trial.  This case involved allegations of unfair trade practices in which the plaintiff class claimed over $100 million in compensatory damages and over $300 million in punitive damages.  In addition, plaintiffs sought to close down the defendant insurance company's entire "direct repair" program.  Axinn was brought in as substitute counsel to try this class action after the class had been certified, and after class certification was affirmed on interlocutory appeal.  After jury selection and trial lasting two months, the jury rejected almost all of plaintiffs' claims and awarded plaintiffs less than $15 million.  On appeal, the Connecticut Supreme Court unanimously reversed the trial judge's failure to award Axinn's client judgment notwithstanding the verdict on that claim, and directed the trial court to enter judgment for the client.
Won a New York State Court jury verdict rejecting multimillion dollar claims of breach of fiduciary duties by directors and officers.  Affirmed on appeal.
Won a $40,000,000 (SDNY)verdict in favor of bankruptcy trustee involving privately held corporation for breaches of fiduciary duties by directors and officers.
Won a jury verdict (E.D. Pa.)rejecting claims of age and sex discrimination involving a failure to promote and subsequent discharge of top sales person.
Won a jury verdict in state court in West Virginia on behalf of insurance company voiding life insurance policy for the deceased wife and mother of two West Virginia residents.
Won a jury verdict (S.D. Ind.)rejecting claims for breach of contract involving oil and gas exploration, and awarding damages on counterclaim for fraud; aff'd 7th Cir.
Axinn combines the skills, experience and dedication of the world's largest firms with the focus, responsiveness, efficiency and attention to client needs of the best boutiques. The firm was established in the late 1990s by lawyers from premier Wall Street firms with a common vision: provide the highest level of service and strategic acumen in antitrust, intellectual property and high-stakes litigation. Axinn's lawyers have served as lead or co-lead counsel on nearly half a trillion dollars in transactions and, in the last 10 years alone, have handled more than 300 litigations.
Axinn has numerous seasoned IP trial lawyers and is a go-to firm for IP matters of strategic importance. The IP group typically has several dozen pending patent and trade secret cases, and tries multiple cases annually. Axinn has served as lead trial counsel in some of the most significant recent patent cases for the world's leading pharmaceutical, medical device, diagnostics, biologics and consumer products companies, including Johnson & Johnson, Thermo Fisher Scientific, Teva Pharmaceuticals and Unilever. On numerous occasions, the firm has been asked to take over cases during or after discovery and serve as lead counsel at trial, including the defense of a multi-billion dollar jury trial.
Axinn litigators try cases and win. They have tried cases before juries, judges and arbitrators alleging breach of contract, business torts, breach of fiduciary duty, unfair competition, antitrust violations, employment discriminations, fraud and theft of intellectual property. Axinn litigators also understand their clients, their businesses and products, their goals and governance issues, and what keeps their GCs up at night. Axinn has particular expertise in serving financial institutions with dozens of insurer hedge funds, mutual funds, and other financial industry clients. Axinn litigators are frequently involved in litigation on behalf of international clients and have successfully represented clients in forums from the Cayman Islands and Jersey to ICC arbitrations.
"

Tom

remains a popular choice for clients seeking representation in high-stakes trials and national class actions. He handles a wide range of litigation, including malpractice claims and antitrust disputes."